Fence Installation and Builders in Brookeville, MD & Surrounding Counties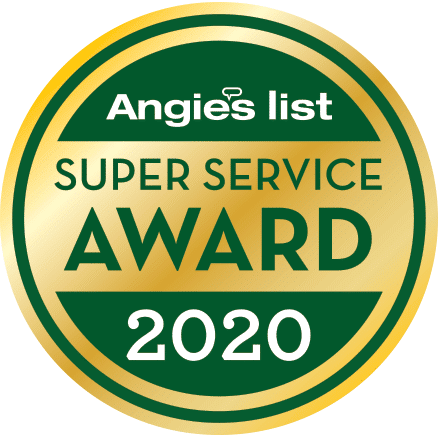 Evergreen Fence and Deck is proud to offer a wide selection of fence and gate styles to select from for home-owners, business owners, property managers, and more.
We aim to meet the budget needs and style requests of every client we service in Howard County, MD and Montgomery County, MD.
We have been awarded the Angie's List Super Service Award, a reflection of our consistently high levels of customer service and quality products for our fence and gate builders services.
When you need a gate and fence installation or fence repair, Evergreen Fence and Deck are the fence builders you can rely on for a quality build to enhance your curb appeal and elevate your home and property.
Fence Installation in Maryland Counties
Are You Looking for Fence Installation Service in Montgomery County or Howard County, MD?
Adding a fence to your home property can greatly elevate your home's property value, your privacy, your usability, and more.
Evergreen Fence and Deck understands that the design, feel, and purpose of your home is unique to each home-owner.
That is why our builders are experts in privacy fences, semi-private fences, deer and dog fences, pool fencing, decorative fences, a variety of materials, security gates, and more.
When you work with us for your fence installation, we take into consideration the style and design of your home, the use of your property, the color scheme of your home, your home's location, and more.
Every fence installation we complete will allow you to better utilize your property, whether you are creating a space for your dog to run safely with a dog fence, or you are protecting a garden you have carefully cultivated with a deer fence.
Even a simple pool fence will make your property look and feel elegant while providing pool safety for kids and pets.
The functions of each of our fences will allow you greater usability of your yard and property. When you need a simple security gate or privacy fence, we install those, too, so your home is protected against close neighbors or high levels of traffic while still looking cozy and comfortable.
Take back the use of your yard with a fence installation from Evergreen Fence and Deck, and get the purpose of your property under your control.
Decorative Fence Installations and Designs Near You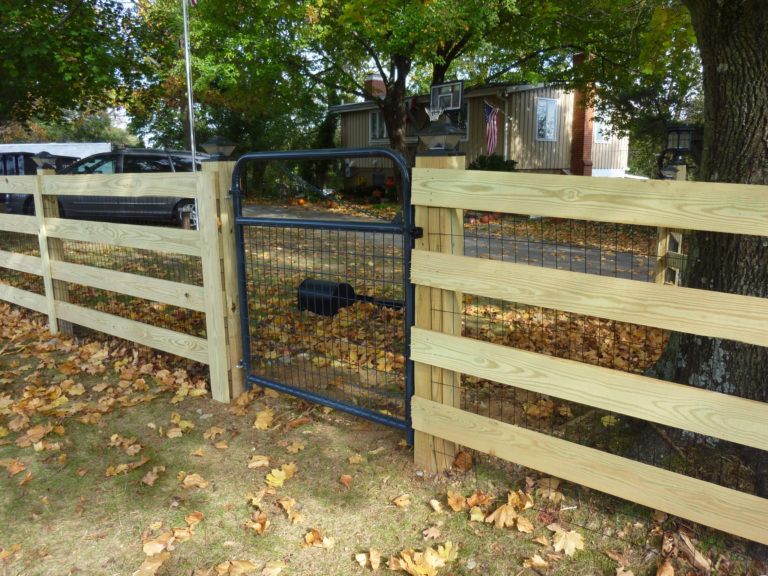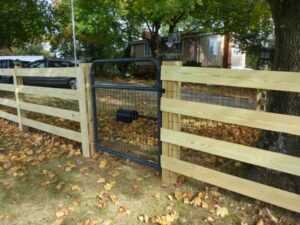 Not all fences are created for function, but to boost curb appeal while mapping out your property lines in a stylish, elegant manner.
Evergreen Fence and Deck completes fence decoration, installations with a variety of material and design options.
We are one of the top fence companies because we take into consideration the look and design of your home so each decorative fence compliments your current home's feel.
For us, each installation is focused on the details, so we will discuss height, material, color, finishings, stains, toppers, curved or pointed tips, and more. It's not just the big picture but the overall design.
Just some of the decorative fence installations we complete include picket fences, gothic style fences, split-rail fencing, ornamental aluminum, and more. You can choose from wood fencing, vinyl fencing, and aluminum fencing.
Consider mapping out your property lines or front yard welcoming walkway with an elegant, inviting decorative fence installation from Evergreen Fence and Deck. 
With our deck and fence company owner on-site at every job, you can ask questions, inquire for design input, and feel confident that your home's curb appeal will get a large boost.
Feel invited into your home every time you walk up to the front door with a fence decoration installation from us.
Ready to begin your fence installation? Contact us to learn more about our fencing options today!
View Our Fence Installations Gallery to Get Inspired for Your Next Fence Design
Not Sure if We Cover Your Area?
Evergreen Fence & Deck Builds and Repairs Fences in All These Areas