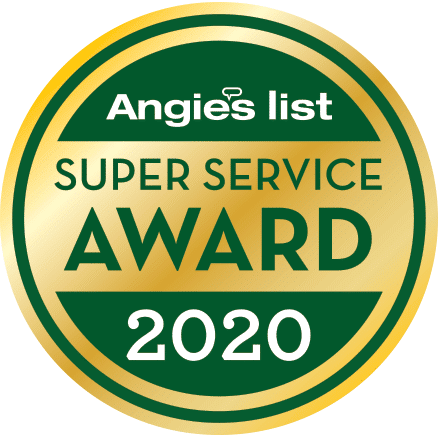 Evergreen Fence and Deck earned the 2019 Super Service Award from Angie's List. The Award reflects consistent high levels of customer service.
When you hire a contractor for deck, fence, and patio work, you want someone reliable and who has been proven trustworthy. Our client reviews are like a recommendation from your neighbor — advice you can trust based on real words from real clients.
Check out what our customers are saying, and learn why you can feel confident  hiring the professional experts from Evergreen Fence and Deck.
Mark, Tim and all of their employees were fantastic. They all went out of their way to do a great job and ensure I was happy with their work. Tim went to the paver store with me to help me pick out patio pavers and did multiple drawings with different cost options (my yard has a slope, and I was on a budget so he helped me figure out something I love that was within my budget). Mark and his team were incredibly flexible with my complicated schedule and did extra work to be sure the landing and stairs were exactly as I wanted them. I cannot recommend these guys enough!
The job could not have gone better. Steve, the project manager, was really quite extraordinary in the way he communicated with us, cooperated with us around our vacation schedule, paid attention to "the little things," managed his crew and delivered a fabulous job. His people, too, perhaps in response to seeing how committed, sincere and dedicated Steve is, were also all diligent and detail-oriented and seemed to really care about doing things right. I mean this in the best possible way: Steve is old-fashioned. Not slick, not fast-talking; just honest, trustworthy, reliable and a real pleasure to do business with.
Evergreen Fence & Deck completely remodeled our 20+ year old deck, updating features and created a beautiful outdoor environment for our family. Mark Dillon, the company owner, spent time getting to know our style preferences, adding his own expertise, and quickly moved forward with this big project. It is obvious that Mark has lots of experience, and we appreciated his attention to every detail. The quality of work was excellent, and the job was completed in a reasonable amount of time. Choosing the perfect stain color was the most challenging, and Steve patiently worked with us to get the color just right. We are very happy new deck and outdoor living space.
Tim was a great! He came out to our house soon after I called. He provided several material brochures and took measurements. He also helped with design ideas. I sought out three different companies and Evergreen was the best price. Tim met us at the stone/paver vendor and we picked out a nice product with his assistance. Prior to the installation, the paver, crushed rock, and dumpster delivery was very well organized. The installation crew were very polite, punctual and talented. They were able to deliver the product, install and clean up over a weekend. Tim also worked with our own electrician to determine where to place the "bump up" for the hot tub wiring. Everything went smoothly and we are very pleased!
Tim, Roberto, and the rest of the crew were absolutely amazing. From the start, Tim spent a lot of time with us discussing patio design options, which was great because while we knew what we liked and had inputs as to what we liked, we didn't know exactly what we wanted going in. Tim put together a great design and spent time with us looking at pavers and materials at a showroom which gave us a good feel as to what to expect in our finished patio. Roberto and his crew actually showed up a bit early and worked through the day into the night and finished most of the work that needed to be done. Overall, the work took just a bit more than a day to get additional drainage put in and a patio and walkway installed. I am very impressed by the quality of the work and their commitment to getting the work done well and on time -- very professional! They even put down grass seed and hay, which is great as I was expecting to have to do that myself. Overall, I felt that Evergreen offered a lot more personalized attention which is what set them apart from others, and our back yard turned out much better for it. I can't recommend them enough and would hire them again for any work in the future.
I have been working with a lot of contractors to improve our home and yard this summer. I was very pleased with Evergreen, the manager Mark and the guys that did the work. Mark responded promptly to my initial inquiry. We scheduled an appt and he arrived on time and gave me options for the fence style, a general idea of costs, and then he followed up with a quote quickly. When I had to repeatedly delay the job because of issues with removal of a large tree he was very accommodating. The guys who came to do the work were courteous, orderly and consulted with me on some shrub trimming that was needed. They also cleared away some extra construction debris when I asked if they would. Mark visited the job twice which was good to see. I liked how they solved the problem of how to put the fence right up to a couple of trees. Very clever solution. They did a good job of cleaning up. And they completed the job in one day, which was nice.
Workers were prompt, very courteous and clean. The owner was very responsive and easy to reach. The finished deck was just what I wanted and I'm pleased. The workmanship was very good..they built a sturdy deck and steps that I'm sure will last for a long time.
Mark was a pleasure to work with, ensured he understood what we needed and explained everything clearly. His employees were professionals and built a high-quality fence on-site, so it's exactly what we need. They also immaculately cleaned the areas where they worked.
We had Evergreen remove our old worn out deck and replace it with a composite one this past autumn. Their work was first class all the way. The owner, major carpenter, and all others were easy to communicate with and did everything on schedule. Our new deck is well constructed and looks terrific. I have no reservations about recommending them because their work is excellent.
You'll not regret the decision to hire Evergreen Fence & Deck! Our fence is gorgeous and was constructed by a crew who clearly knew what they were doing, even our neighbors loved them. Mark didn't even seem bothered when I thumbed through what might have been a million photos before deciding on a style for our fence. All around great job, thanks.
The best!!! We had our deck redone last spring and evergreen exceeded all expectations! The owner was wonderful throughout the entire process and completed our project ahead of schedule. His crew was amazing and paid attention to all the details. Would absolutely recommend and use again in future if ever needed!
Evergreen did the best job possible! They built a new fence with beautiful gates and our yard is secure and the fence looks great. They finished on time as promised and cleaned up beautifully. I will not hesitate to use them again.
Contact Us to Schedule an Appointment for a Free Quote